The Villa





•

Set amidst a dominant position on the best location of Monte de los Almendros (the almond hill), this exclusive, one levelled vacation villa Villa Almaysia is completely secluded between earth, sky and sea, giving you an infinite sense of over dimensioned space and offering you an endless breathtaking view.



•

The view varies each hour of the day and the night with fantastic views on the near Mediterranean, the foothills of the Sierra Nevada and the romantic, by night illuminted castle-hill of Salobreña in Andalusia. This cocoon of calm, beauty and exotic luxury is dedicated to the very demanding guest searching for peace and privacy.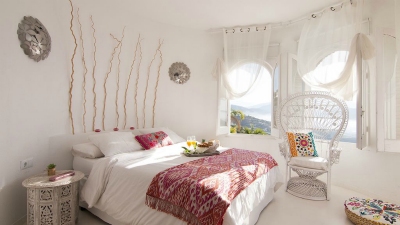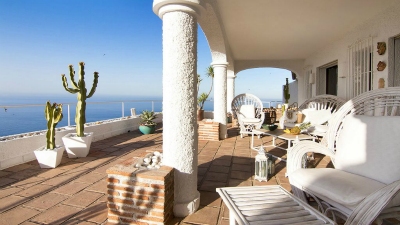 •

The name Almaysia describes perfectly the tropical luxury and the essence of this retreat which has been completely decorated with selected pieces, collected during a 7 years stay in South East Asia. Pieces from Thailand, Myanmar, Indonesia, Malaysia and India where carefully brought back by the owner herself.



•

The property of the holiday villa includes of ~1600 sqm and the living area offers with ~200 sqm generous space for up to 6 guests. The holiday villa offers a fully equipped open kitchen, spacious dining and living area, 2 king-sized bedrooms with ensuite bathrooms, 1 twin bedroom, separate TV room with satellite-TV (with more than 50 English channels, 50 German channels, 20 French channels), stereo, CD, DVD-player and free internet access (DSL), all with an easy transition and a direct access to the surrounding sundeck area. The open porch offers a leisure salon, relaxing lying chairs and dining area.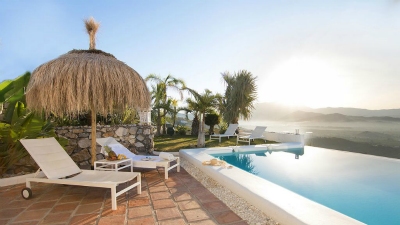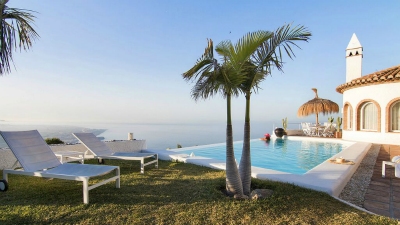 Outdoor Area



•

The magnificent private swimming pool and an outdoor shower can be found at the same level, in continuity with an exquisite garden scented with frangipanis, hibiscus, bougainvilleas, orchids and a rich variety of exotic plants. The infinity pool has a noble, pure-white design, 9 meters long, with Buddha and Zen cascades, which emanate in quiet, relaxing splashes a Burmese pottery.



•

The pool has

multicolor LED lights

with remote control allowing to set either the favourite colour between 11 different ones or to settle a changing programm allowing to see one colour after the other.



•

This romantic retreat provides luxury accommodation, comparable to a first class boutique hotel being a perfect hideaway for higher expectations.


"In Andalusia, where sea and coast merge, lies Villa Almaysia ... Her empire stretches over space, mountains and the vast sea ... A world of dreams and refuge, like a white blossom that blooms in spring, it shows itself only to the chosen few, who explore the world in search of extraordinary places, to enjoy the moment and to hold it for eternity."

visit our guestbook
Monte de los Almendros
•
Here, on
Monte de los Almendros
, you are completely undisturbed from any tourist crowds or even traffic-noise, nevertheless it is only ~ 5 minutes drive to the extensive beaches of
Salobreña on the Costa Tropical
and to numerous restaurants with typical Spanish specialties and international offer.
•
Please note that
smoking
is prohibited inside the villa, however it is of course allowed on the terraces. We also would like to ask you to handle the high-quality equipment very carefully.
•

Pool and garden care
take place during your stay only after arrangement, so that you can feel completely undisturbed.